---
---
~~~~~~~~~~~~~~

Photo Galleries of some current products we have made:
---
Photo Galleries of discontinued products we have made:
---
Useful Info:
PLEASE READ ALL OF THIS
(I know it's boring, but I'll get cranky if you haven't read it all.)
HOW TO REQUEST INFO OR A QUOTE FROM FRANKENCUTTERS
(FrankenCutters has no "stock" cutters or inventory, so you need to describe what you'd like.)

Generally, the process goes like this:
Tell us what you want, how large, how many, etc...

and your zipcode



I'll email a reply with a quote describing some options, maybe asking a few questions.
You email back specifying what your choices are, and with a U.S. shipping address
I'll confirm that by email and you can mail a check or money order
---
1A. Describe what you want
For common shapes
, you could just say what and the overall dimensions: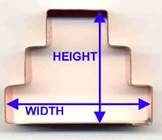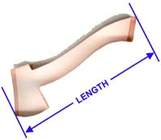 The DEPTH is how deep the cutter is, normally it is 1"

common dogbone, specify the length

Nantucket Island lighthouse, 5" high
57 Chevy hardtop, sideview, 6" long
Rectangle, 2 3/4" high x 5 1/4" wide
For specific shapes
, you should email a
.jpeg graphic
, and specify a dimension, like "5 inches long".
Please DO NOT email .PDF's or .DOC's
. They are not graphics, and it takes time to convert them back into .jpeg graphics so I can print them to the size you specify..
NOTE ABOUT SCANNING OR EMAILING FILES:

Scanning your original item or drawing works great but keep this in mind:

To keep filesizes reasonable, high resolution is NOT needed. 100-150 dpi. is plenty. Full color is not needed, the files will be a lot smaller if you select "Greyscale".

Please crop around the scan, if the object is 2" x 3", you

don't

need to email a 8 1/2" x 11" scan of the whole scanner bed.

A white background is much better than color.

Specify a dimension for EACH shape, such as: Height = 4.5", or Length = 5 1/4".

The filetype should be

JPEG

, as the filesizes are smaller, but .gif, .tif, .png, will all work.

Please DO NOT email .PDF's or .DOC's

.

Just

attach

the .jpg file to an email. Please don't drag it into a Word document or into a .PDF, I'll just have to take time to extract the graphic back out. If you really HAVE to email a .PDF, I can use it but it is more work for both of us (and that costs you money).



And don't forget to specify a dimension for EACH shape.
For customer's logos:
If it's your company's logo, then no problem. Otherwise, here's some fine print:
IMPORTANT NOTE REGARDING COPYRIGHTED OR TRADEMARKED WORK

FrankenCutters LLC will not reproduce copyrighted or trademarked designs such as Hallmark cookie cutters, sports logos, or copyrighted cartoon characters, without permission. If we are working from customer-supplied artwork, it is the responsibility of the customer to obtain any necessary permission from the owner(s) of the copyright or trademark.
Linking to a graphic on the internet:
No problem with that, but I won't copy other cookie cutter makers products, I feel they own the rights to their designs. (And if you send me your design, it is your property and not for sale to anyone else either). If it's a copyrighted or trademarked logo, see note above.
1B. Specify how many
Since all FrankenCutters products are made individually by hand, I can't offer much quantity discount, but if you want, say 6 or more, let me know that, and the quote may offer a single item price and a multiple item price, depending on the complexity of the design. And I can't do large quantities, like 20 or more,
1C. Your
zipcode
FrankenCutters will give you a quote including shipping & handling charges, and for Priority Mail with large sized packages the zipcode makes a huge difference. (See "Shipping & Handling). Save time, send the zipcode on your first email. Sorry, but FrankenCutters is unable to ship internationally.
2A. We'll email a reply with a quote
This will include prices, shipping & handling, and estimated leadtime. We pay any sales tax.
2B. Shipping & Handling
Our quotes include shipping & handling, so we have to guess the shipping costs in advance (sometimes we win a little, sometimes we lose a little). That's why
we need to know your zipcode
. The options are:
Parcel Post or First Class Mail

(5-7 days): Costs the least.

Priority Mail

(2-3 days): Often costs only a little more than Parcel Post, so it's the preferred method. Except it may be outrageously expensive for cakepans so they usually go Parcel Post.


Express Mail

(overnight): Fastest way, cost a lot more, but no air surcharge.

Note that FrankenCutters is in a small town, not convenient to FedEx or UPS. Besides, Rick at the Post Office would be hurt if we shipped any other way.
3. Orders from Outside the U.S.
We are very sorry, but due to the difficulty in estimating shipping, the paperwork involved, and the impossibility of doing currency conversion here, we are unable to ship outside the U.S.A.
4. Mail a check or Money Order
At this time, FrankenCutters
cannot accept Credit Cards or PayPal
. The reason is credit card companies are not fun to deal with (no news there), and also because Credit Cards or PayPal take at least a 5% cut of any payment FrankenCutters would get. We are happy to accept personal checks, business checks, or any kind of money order. Please don't make me drive to town to sign for a registered letter. Make check/money order out to: FrankenCutters LLC or Frank Longmore. Our Mailing address is: